Ready to find your ideal master's program?
www.mastersprogramsguide.com is an advertising-supported site. Featured or trusted partner programs and all school search, finder, or match results are for schools that compensate us. This compensation does not influence our school rankings, resource guides, or other editorially-independent information published on this site.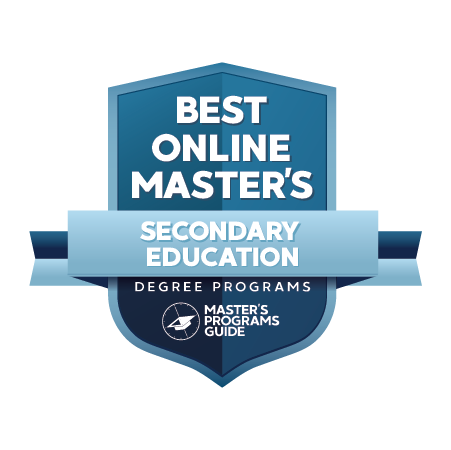 When it comes to teaching, secondary education takes first place. Well, that sounds good anyway—universities offering secondary teaching degrees should use that as a motto, because it's snappy. In reality, teaching at any level is a higher calling, an immeasurably important job that directly shapes the minds of tomorrow's adults. Secondary instructors work with kids at a pivotal time: In the United States, "secondary education" covers middle school through high school, grades six through 12.
Those are intense years for kids, to put it mildly, when brains and bodies are developing at a seemingly breakneck pace. Adults who willingly choose to be around kids during this tumultuous, exciting time deserve some kind of humanitarian award, or at least everyone's undying respect.
The Bureau of Labor Statistics estimates there are more than 1 million of these brave souls in the United States. That number excludes substitute teachers, career/technical education teachers, and special education teachers, whom it classifies separately. The BLS doesn't provide growth estimates for secondary teachers as a group, but it forecasts the number of middle school teaching jobs to increase by 3% (slower than average) and high school teaching jobs by 4% (average) through 2028.
People looking to follow the jobs will find the highest number of them in California, Texas, New York, Ohio, and Pennsylvania. Unsurprisingly, the nation's four biggest cities—New York, LA, Chicago, and Houston—have the most jobs in metropolitan areas. As U.S. News and World Report notes, "Growth depends on the region, since the amount state and local governments budget for new positions varies significantly."
Landing a good job teaching in a secondary environment depends on a lot of factors, but an advanced degree can only help your chances of getting one. According to the National Center for Education Statistics, 59% of secondary school teachers had a post-baccalaureate degree in 2015-2016—the most recent year for data—up from 50% in 1999-2000. Education remains a popular graduate degree: In 2016-2017, it accounted for 18% of master's degrees (146,000), second only to business degrees. Before 2010, education was the No. 1 master's degree in the U.S.
All of that is to say the jobs are out there, and people are using master's degrees to better prepare for them. As the number of teachers—secondary or otherwise—with master's degrees continues to trend upward, the degree will become less of a rarity and more of a necessity. While there will always be a place for teachers who lack advanced degrees, those who do have them will find more opportunities available to them. 
Secondary education is also the place to be. U.S. News and World Report ranks high school teacher the No. 2 in Best Education Jobs and middle school teacher No. 4. Okay, so the "best education jobs" list is only seven items long, placing in the top five still counts for something, right? 
See Also: 10 Best Master's in Industrial Engineering
Common Application and Admission Questions
The schools in our 20 best online master's in secondary education either prepare students to earn their first teaching certificate or further the expertise of working teachers—one or the other, usually not both. That means admission criteria are different, depending on the intended outcome of the program. Some require prospective students to show proof of a valid teaching license with their application, and others require little more than transcripts of undergraduate coursework. Many of the programs offer further specialization within secondary education. In some of those cases, the universities require an undergraduate degree that reflects those specializations. 
Admission requirements can vary considerably. These programs are generally geared to working adults—and thus offer part-time instruction—which means they typically have more accommodating admission standards. That could mean credit for previous coursework performed while earning a teaching certificate, or no standardized test requirement, or a general "Let's figure out a way to make this work for you" attitude. Degrees tend to require about 30 credit hours of work, usually including student teaching and/or a capstone project. Coursework begins with core education classes then proceeds to more targeted topics and projects, such as specialization courses and student teaching assignments.
All of the programs in our top 20 are offered 100% online, with few or no requirements to go to campus. But because online education is heavily regulated, students applying to schools outside of their home state will need to ensure those schools have permission to instruct them. Out-of-state students in programs that work toward a teaching certificate will also need to check the reciprocity guidelines of their home state to ensure their hard work pays off back home.
Because teaching is a sort of higher calling, many programs require a personal statement wherein applicants explain why they're pursuing the degree, their educational philosophy, and more. Letters of recommendation are another common requirement, along with the usual stuff like college transcripts. Most require at least an undergraduate 2.5 GPA or around a 3.0 in the final 30 to 60 hours of undergrad study. Not all schools require standardized testing—GRE, Praxis, MAT, etc.—but, especially for applicants whose undergrad GPA isn't so great, good test scores can help with admission. Expect to spend $50 or so on application fees as well.
Online degree programs tend to have rolling applications, so people can apply at any time, and often offer several start dates throughout the year. A few are cohort-based, meaning you proceed through your degree work with the same group of people. Most programs provide asynchronous learning, wherein students complete coursework—such as watching lectures and completing assignments—on their own time, albeit with deadlines for assignments. The ones that aren't asynchronous require students to be online at a certain time every week to watch lectures and participate in class. Regardless of the type of instruction, it's usually supplemented with designated times for group chats and interaction with instructors so distance students don't feel so removed from a traditional learning experience.
What About Financial Aid & Scholarships?
Education isn't getting any cheaper, but the biggest perk of online learning—next to its flexibility—is its affordability. Online classes are cheaper per credit hour than their on-campus counterparts, sometimes to a significant degree, so it pays to learn from home. Even though online learning is designed as an alternative to people matriculating on campus, some universities—particularly public schools—still distinguish between in-state and out-of-state students. Non-residents may have to pay more, but they're still paying less than they would as traditional out-of-state students attending classes on campus.
The programs in our 20 best online master's in secondary education average $17,958 per academic year, a number we calculate using tuition as a base and factoring in financial aid opportunities. On the high end is Saint Joseph's University (No. 15) at $35,344, and on the low is Cal State–Fullerton (No. 5), at $8,274. That's quite a spread, and no matter what school you choose, a master's degree requires a significant chunk of change.
The first thing to do is fill out a Free Application for Federal Student Aid from the U.S. Department of Education's Federal Student Aid program. For a quicker estimate of what aid you may qualify for, use the site's FAFSA4caster. In fact, the entire Federal Student Aid website is super helpful. It has a whole section devoted to the various types of financial aid, how to apply for it, an overview of the entire process, and another section on dealing with student loans. Because student loans remain the easiest and most common form of financial aid, and because the industry has suffered from bad actors, the Federal Student Aid website is especially helpful. There's a loan simulator, consolidation information, and a whole section with resources for qualifying for loan forgiveness. 
If loans are the yin of higher education funding, scholarships and grants are the yang. Scholarships are based on merit, grants on need, and there are a lot fewer of them for graduate studies than undergraduate. The first place to start is whichever university you plan to attend, as it will likely have in-house scholarships and grants for students. The University of North Texas (No. 2) offers a typical example, with university and departmental scholarships, along with external ones related to the university. It's also worth checking what scholarships are offered by your home state and any private companies that have skin in the education game. Once again, a great resource for this is the Federal Student Aid website, which explains the scholarship process and links out to the U.S. Department of Labor, which lists more than 8,000 scholarships, grants, and more. There are also dozens of scholarship and grant aggregators online, even on the websites for student-loan companies, so all it takes is research to find some that could work for you. 
Veterans and active-duty military will want to see what they qualify for with the Post-9/11 GI Bill, which provides funds for college studies. Finally, because these are online degree programs, students won't have a chance to work as research or teaching assistants on campus, but they still may qualify for Federal Work-Study, which provides part-time work related to their field of study. But considering these programs are geared toward adults who are already working, adding on a part-time job to the heap of responsibilities may not be reasonable. 
How Much Can I Make With a Master's in Secondary Education? 
If teaching is known for anything, it's not high salaries. While pay has improved on a macro level over the years, teaching will never vie for space on any "best paying jobs" lists (or "lowest stress jobs," for that matter). Jobs that can be described as "callings" are usually the most challenging—people are called to them, after all—but also the most rewarding. Teachers tend to place high on those kinds of lists, and with good reason: Few careers have as much of an impact as teaching.
That said, self-satisfaction doesn't pay the bills. According to the Bureau of Labor Statistics, secondary school teachers earn an average annual salary of $64,430, with top earners bringing in $97,500 and the lowest 10% earning $39,740. The median is $60,320, still well above the national median salary of $38,640. State government jobs (excluding schools and hospitals) pay the best, with an average salary of $72,340, followed by elementary and secondary schools ($64,400), colleges and universities ($60,170), psychiatric and substance-abuse hospitals ($58,980), and local government, excluding schools and hospitals ($56,490). Geographic location plays a huge role too, with teachers in more expensive states earning a higher average salary. BLS data shows secondary school teachers in California earn $80,510, and their counterparts in New York $85,300. Teachers in Texas, which has the second highest number of secondary teaching jobs after California, earn an average annual salary of $58,190—nearly 28% less than teachers in the Sunshine State. (Bonus for Texans: no state income tax.) One surprise among the BLS data: Alaska is the fourth highest-paying state for teachers, who earn an average of $77,920, extra money they can spend on warm clothes.
Beyond geographic location, salary depends on experience and education, which makes a master's degree a pretty safe bet for career advancement. According to a 2011 report from Georgetown University's Center for Education in the Workforce cited by U.S. News and World Report, people who hold a bachelor's degree earn $2.27million over their lifetime. But those with a master's degree earn $2.67 million. Also worth noting: A 2013 report from the Center for Education in the Workforce found the overall unemployment rate for people with graduate degrees to be 3.3%, significantly better than the 7.0% national average at the time. These days, national unemployment is hovering around 3.6%, good news for people with and without advanced degrees.
What Are the Best Online Master's in Secondary Education Degrees?
We know that you have educational goals that you're itching to pursue, but you may not know where to start. The editors of Master's Programs Guide utilize a unique ranking methodology based on the following five aspects:
25% Overall Degree Affordability: Average cost of undergraduate and graduate tuition per school
25% Graduation Rate: Number of students who start at the university and actually finish there
20% Earnings Potential: Average mid-career salary of school alumni
20% Selectivity: The number of students who apply versus the number who actually get accepted
10% Online Graduate Offerings: The number of programs offered online in each department
At Master's Programs Guide, we strive to do our best to guide you and your family toward a fruitful academic career. The pursuit of knowledge is a noble one, and we want to help you reach your goals.
Check out our ranking of the 20 best online master's in secondary education!
Master of Arts in Teaching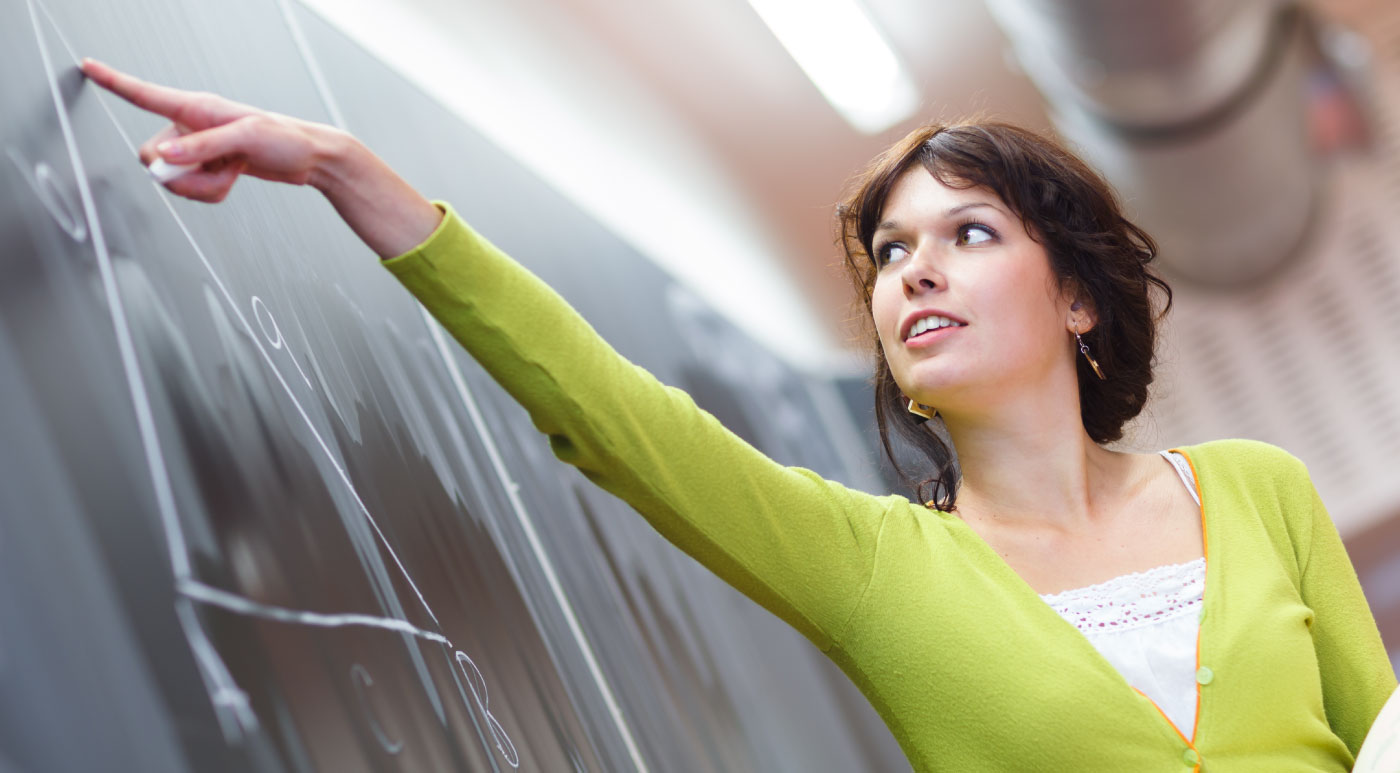 Founded by Rev. Jerry Falwell in 1971, Liberty University likes to say it trains "Champions for Christ," and its MAT program is designed "to help integrate your faith and Christian worldview with your professional life." It's an online degree that "will prepare you professionally as well as spiritually," so Liberty University has a higher calling on its mind. 
In more earthly concerns, the MAT is a 36-hour program that takes an average of a year and a half to complete. Courses are completed 100% online in eight-week intervals, and students can transfer in up to 50% of their degree credits. The university describes the curriculum as having a core of learning theory, notable research on historical and philosophical foundations of education, and is based on exceptionalism in education. 
Liberty divides the curriculum into three areas of 12 hours each: initial education core, secondary education cognate, and professional courses. The initial education core features four foundational classes: Learning Theory, Historical & Philosophical Foundations of Education, Foundations of Exceptionality, and Tests and Measurements. The secondary education cognate begins with a pair of required courses, Current Issues in Content Areas and Content Instructional Procedures, then students can make some choices based on their interests. They choose one of three courses in writing/language, then one of five options covering middle school instruction. They dig into teaching science, social studies, math, and literacy, and there's also a course called Curriculum & Methods for Effective Instruction. 
The 12 hours of professional courses mix theory with hands-on work. It includes two practicums—for no course credit—that require 45 clock hours in a project "designed to link theory with practice," per the course description. A student teaching course provides three hours, and the rest of the coursework is rounded out by Curriculum Fundamentals, Principles of Behavior Management, and Teaching Content Area Reading. The university recommends students pursue dual endorsements, whereby they take a few extra courses to graduate with licensure in secondary education and an additional endorsement, such as elementary education, middle grades, or special education. 
Liberty keeps its admission requirements simple. Applicants will need a bachelor's degree with a 3.0 GPA or better, along with their transcripts. Those with a GPA under 3.0 will still be considered for provisional admission. Liberty's program is accredited by the National Council for Accreditation of Teacher Education through the Council for Accreditation of Educator Preparation. 
The school offers start dates for its MAT program eight times throughout the year. At $27,432 per academic year, Liberty University is the second most expensive program on our list, costing roughly $10,000 more than the average. Veterans can earn significant discounts on their tuition, and if they're veterans who work as civilian first responders, they can get even more of a discount. 
Master of Education in Teaching, Secondary Education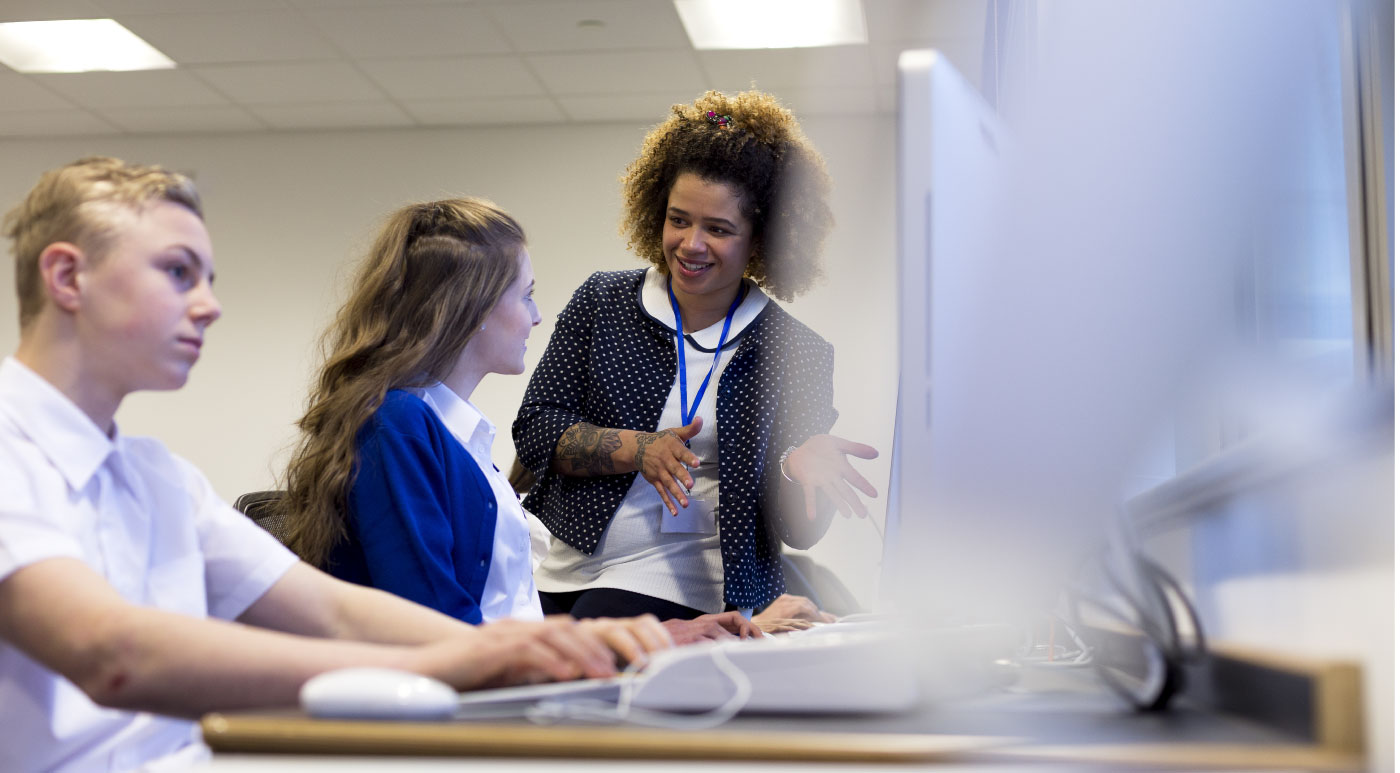 The University of North Texas lies in Denton, about 40 miles north of Dallas. But don't spend too much time looking at maps to find it: "UNT is more than a place," says its website. "We are a state of mind, a way of being." Well, that works out for people studying online at UNT, as they won't be spending much time on campus. UNT is, like, wherever you plug in your laptop, man. 
The university's Master of Education in teaching, secondary education is a 36-hour program built around 12 classes. The curriculum breaks down into 12 hours of core education courses, 12 hours of a secondary education classes, six hours of education foundations or pedagogy, and six hours of student teaching or an internship/practicum. The 12 hours of core courses include classes on curriculum development, classroom discipline, literacy development, and applying theory to teaching practice. Which classes students choose for the 12 hours of secondary education requirement seems to be up to their discretion—pending the university's approval—but UNT requires that at least six of them be reading courses. 
The secondary certification coursework actually doesn't entail a lot of coursework. There are two required courses—Public Education and the Teaching Profession, and Successful Teaching in the Secondary School—then students choose one of two paths. Those seeking secondary certification will earn six credit hours for student teaching in secondary schools. Others will take a practicum/internship path, which places them in public schools to teach under the guidance of a mentor from the school district. This latter path is required for initial teacher certification for people who already have a bachelor's degree. Both practicums are worth three credit hours each, and both will require a teaching portfolio.
Although the program is completed online, some courses require two meetings per year, and there's an optional face-to-face orientation for students at the beginning of the process. Getting into UNT's Master of Education program is a two-step process, which begins with an application to the university's Toulouse Graduate School. Applications for students who meet the initial admission standards are then reviewed by the College of Education, which makes the final decision. So what are those admission standards? For the university, plan to supply GRE/GMAT scores and college transcripts. The college of education requires a 2.8 GPA or better, résumé, letter of intent for pursuing a master's in teaching, and a three- to four-page essay "on your personal philosophy of teaching with concrete examples of that philosophy applied to your own teaching practices." 
That sounds intense, but UNT's price tag is a lot less intimidating: only $12,600, well below the average for the 20 best online master's in secondary education. The university's tuition calculator can help prospective students get a better sense of the exact potential costs of completing UNT's program.
Master of Arts in Teaching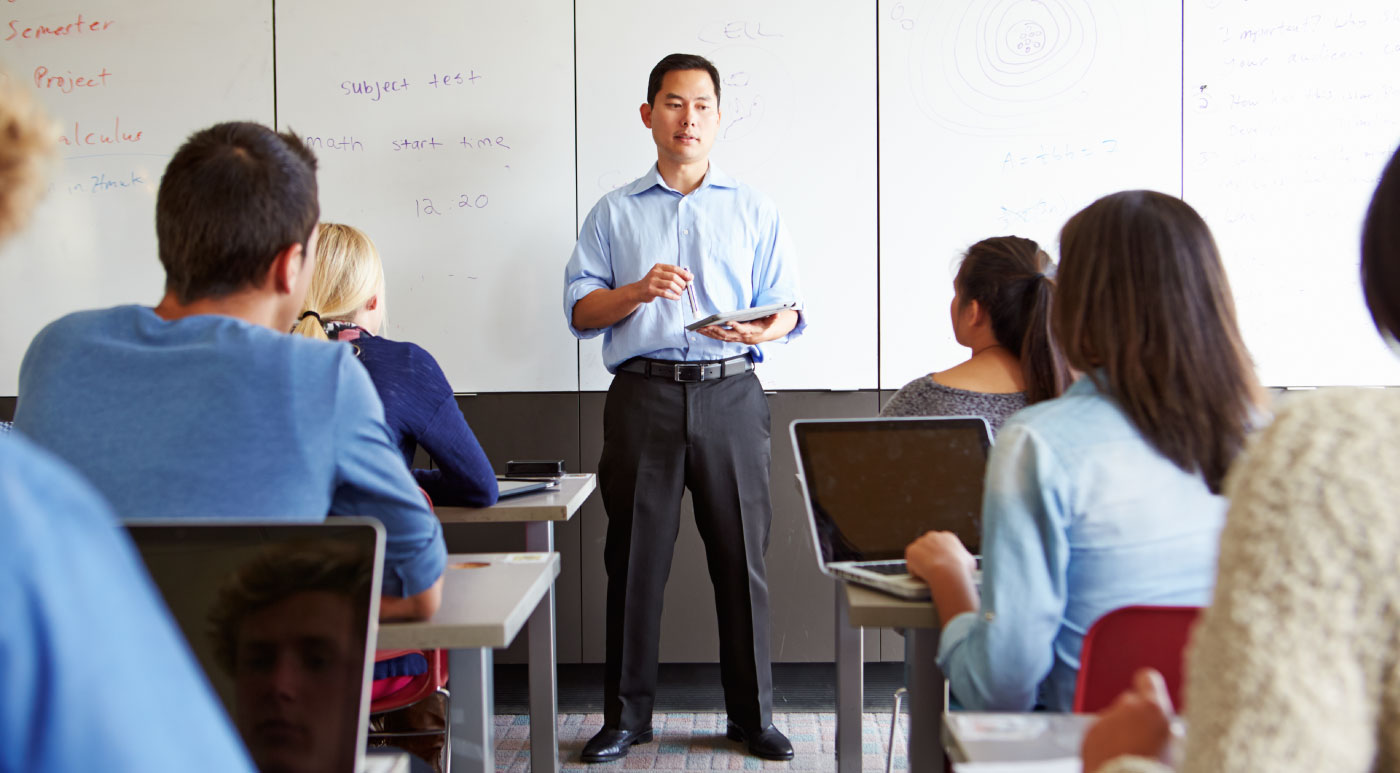 "Bama by Distance," goes the motto of the University of Alabama's online learning division, probably because "Tuscaloosa by Telecommute" is too clunky. Regardless, the university offers a variety of online options, including five varieties of MAT in secondary education degrees with various certifications: reading specialist P-12; English for speakers of other languages P-12; English language arts 6-12; general social science 6-12; and science (biology, chemistry, physics, or general science). 
The English language arts track is designed for teachers currently certified at the bachelor's level in secondary education English language arts, and it explores "ways to create environments that stimulate and challenge students to be engaged in the active processes of language use and learning." The social science curriculum focuses on political science, history, and civil rights using problem-based inquiry models. The reading specialist track is the most specialized of the four, with a curriculum "consisting of theory, application, assessment, and implementation of research-based instruction." 
All of them share the same basic setup: 30 credit hours of coursework—though the reading specialist degree can go up to 33—all of it completed online. All of the certifications except reading specialist take four required courses specific to their field of study. There isn't a ton of overlap, though most of them require Computer-Based Instructional Technologies and Modern Secondary School Programs. The three non-reading specialist tracks share similar requirements for foundations courses (all three hours), field teaching (nine to 12 hours), and a special education survey course. The ESOL track also requires six hours of an internship, and science has an educational research course requirement for three hours. 
The reading specialist certification goes its own way compared to Bama's other MAT in secondary education programs. There are 10 required courses, including four practicums covering literacy coaching, PK through second grade, reading education for third to sixth grade, and an advanced one for middle and high school students. Other coursework includes Second Language Acquisition, Expanding Reading in the Elementary Grades, Beginning Reading in PK-Primary Grades, Seminar in Literacy Coaching, Re-envisioning Literacy Assessment for Diverse Learners, and Introduction to Educational Research. About the only thing the reading specialist track shares with the others is a requirement for a special education survey course.
Bama's admission requirements are pretty similar across the tracks: Alabama class B teaching certification (or equivalent); an undergrad degree with a 3.0 GPA; a minimum 300 on the GRE or 50th percentile on the MAT; transcripts; three letters of recommendation (one from a principal or superintendent); and a statement of purpose. Applicants for the reading specialist track will also need two full years of K-12 teaching experience.
Everyone will need $20,465 per academic year, which places the University of Alabama on the pricier side of the programs in our list. The actual price may vary, of course, and like other universities, Bama has a Net Price Calculator on its website to help prospective students get a better idea of how much their education will cost. 
Master of Arts in Teaching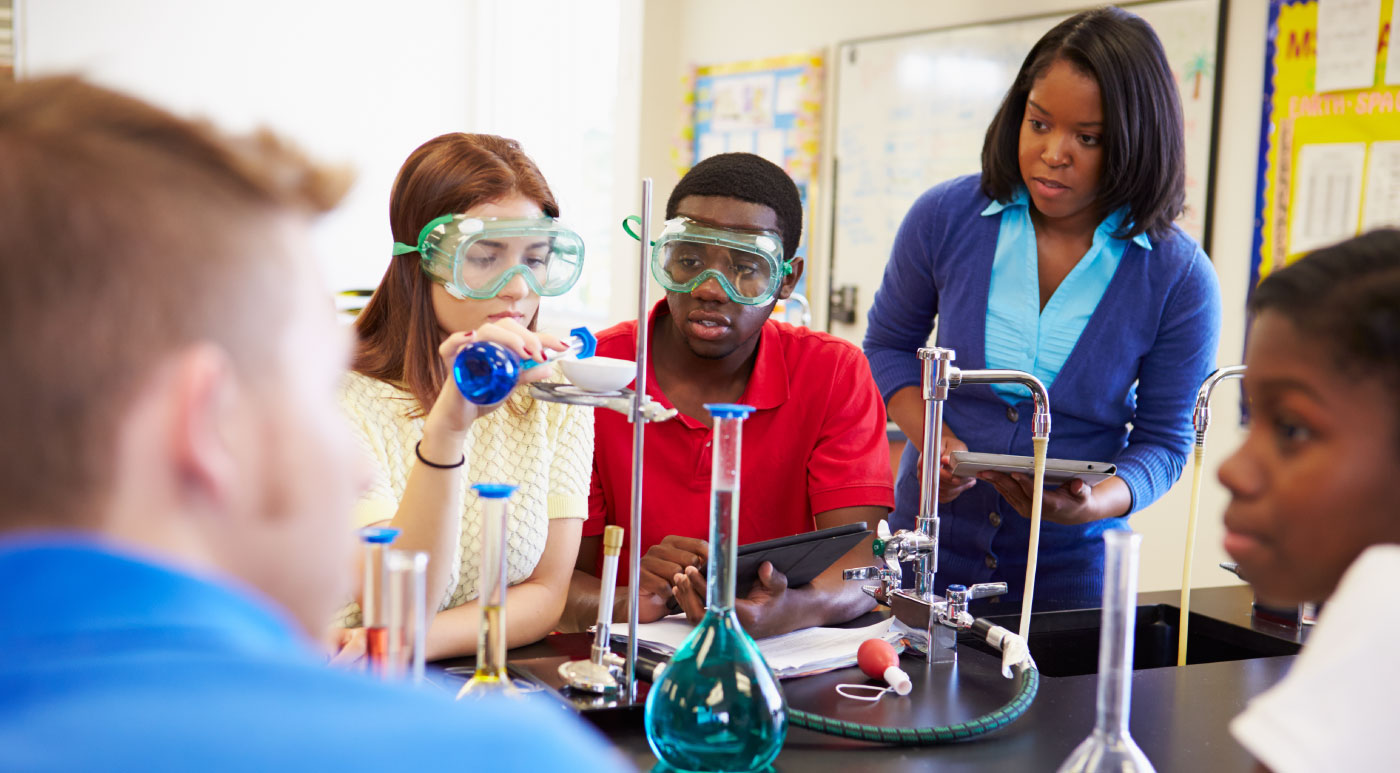 A lot of universities talk about the particulars of their secondary education master's programs—how many credit hours they require, courses in the curriculum, etc.—but San Diego State takes a step back to dig into the thought processes behind those things. Describing it as resting on a foundation of "social justice and equity in education," SDSU believes "that teachers must have the opportunity to examine and think critically about the curriculum and delivery methods they use in the classroom." So it bakes that into its program, which includes hands-on instruction with problem-based learning and issues-centered curriculum. That's part of the larger mission of SDSU's School of Teacher Education, which promotes "a disposition of inquiry among prospective and practicing teachers, scholars, and students." 
Even better: It can all be done in one year. Although SDSU's program requires 30 units for graduation, it awards six hours of credit for previous graduate coursework taken while earning a teaching credential. (Those who earned their credential as an undergrad will need to take two additional classes.) Students work as a cohort through three semesters beginning with four courses the first summer, two courses in the fall, and two in the spring. The first semester is intense, as professor Luke Duesbery notes in a video explaining the program, with courses covering curriculum development, innovations in curriculum, assessment and evaluation, and multilingual language acquisition. The second semester features courses on teaching critical thinking with technology and inclusive education, then wraps up with a take-home comprehensive exam. The final semester includes a class covering research-based pedagogy for diverse learners (focusing on tools, strategies, the latest research, and best practices) and an action research/capstone project designed by the student. In it, they ask and answer an education question that matters to them. The idea is that, through the project, "teachers will have the opportunity to examine and develop curriculum for use in their own classrooms which is grounded in the values of social justice," per the website.
Describing the program as "highly competitive"—U.S. News and World Report ranks it No. 8 for Best Online Master's in Education Programs—the university recommends prospective students apply as soon as possible. It's a two-step process that requires them to first apply to SDSU, then into the program itself. They'll need a valid teaching credential, transcripts of all their college work, GRE scores, a one-page statement of purpose, and a letter of recommendation. 
SDSU likes to tout its top 10 national ranking and No. 1 state ranking in U.S. News and World Report for students graduating with the least amount of student debt. Those rankings are from 2013, and SDSU isn't on the most recent ranking. But California heavily subsidizes its universities, and the school remains reasonable: $14,568, below average for the 20 best online master's in secondary education. 
Master of Science in Education, Secondary Education Concentration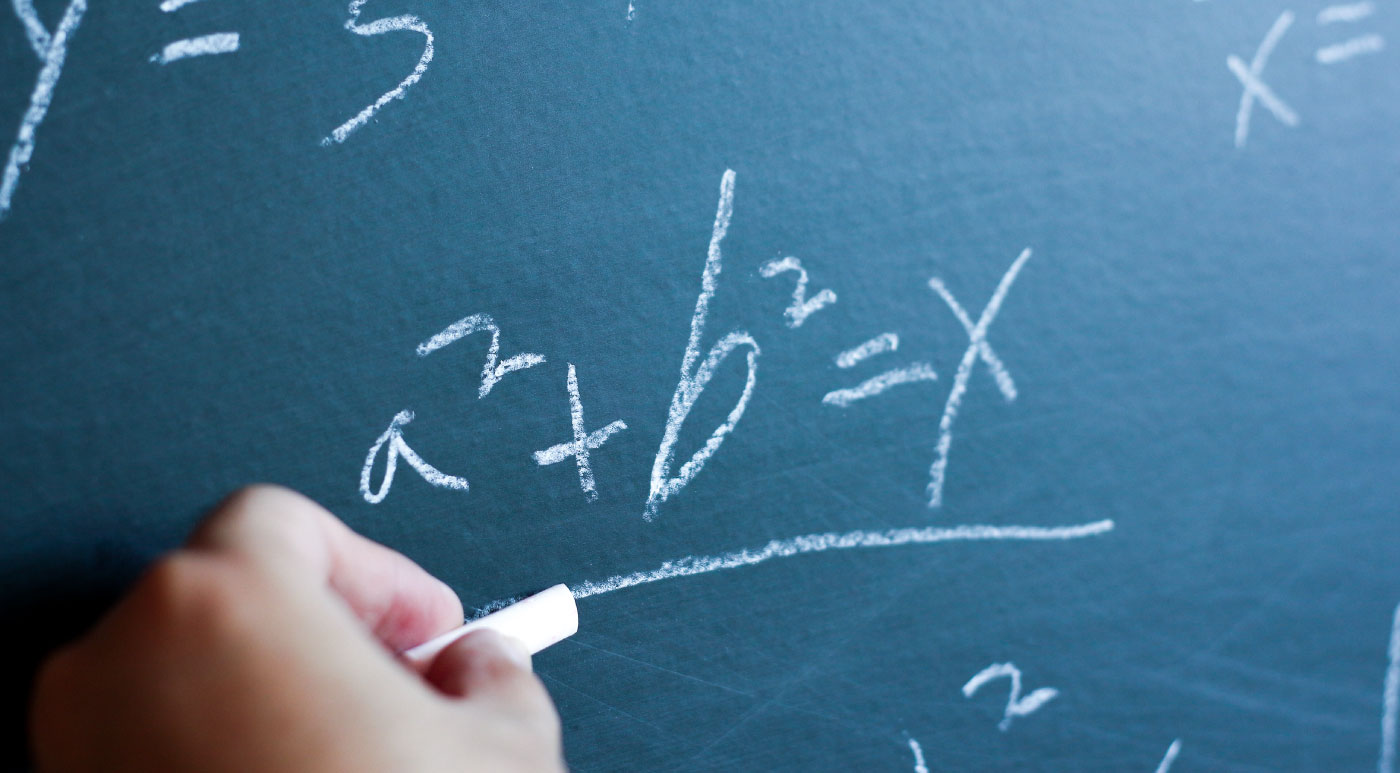 Cal State University in Fullerton, CA, is fairly new by university standards. It started in 1959 as Orange County State College, working out of local high schools until it found a permanent home a few years later. In 1962, the school hosted what it billed as "the first Intercollegiate Elephant Race in Human History," a publicity stunt to help engage students in college life. Ten thousand people showed up to watch 15 elephants "race" across part of campus, and it drew media attention from all over. Such an event would almost certainly never fly today, but its legacy lives on in the CSUF's mascot, Titan the Elephant.
What CSUF has lacked in stunty media events in recent decades, it has made up for in affordability ($8,274, the cheapest in our top 20), surging student enrollment (just under 40,000 as of 2019), and solid rankings as a regional university. U.S. News and World Report has it at No. 17 for Regional Universities West, and tied for No. 20 in Best Online Master's in Education Programs. Speaking of online programs, CSUF's MS in education, secondary education concentration, aims to build students' skills in "curriculum design, instructional and assessment strategies, integration of technology, and reflection skills." It's available in both online-only and hybrid formats. 
The degree requires 31 units of instruction, divided among a prerequisite course (Introduction to Graduate Studies for one credit), core courses (15 units), concentration courses (six units), electives (six units), and a culminating experience (three units). Five classes form the core block, covering educational technology, secondary school writing, educational research, curriculum theory and development, and a professional seminar in secondary teaching. The concentration coursework comes from two classes: Family, Community, and Professional Partnerships and Assessing Student Learning. Students pick their electives with the help of an advisor, then choose one of three options for their culminating experience: project seminar (three credits), capstone (three credits), or thesis (one to three credits). In the seminar, students prepare, evaluate, develop, and present curriculum research projects. The capstone allows for further study in the areas of curriculum, instruction, assessment, educational technology, program development, leadership, the National Board of Certification, and interpersonal relations. For the thesis, students conduct research on an empirical project, which they write up in a thesis with the aim of publishing it. 
CSUF offers the program every fall and usually in the spring, though that depends on student enrollment. Getting into it requires a 3.0 on previous academic work, a valid teaching credential, résumé, a 500-word statement of purpose, and at least two letters of recommendation addressing "your aptitude for graduate study, including your teaching skills as well as your academic preparation." Whatever hurdles there may be, they all seem worth it for that $8,274 price tag—it's less than half the list average and an unbeatable deal.
Master of Arts in Teaching Middle Grades and Secondary Education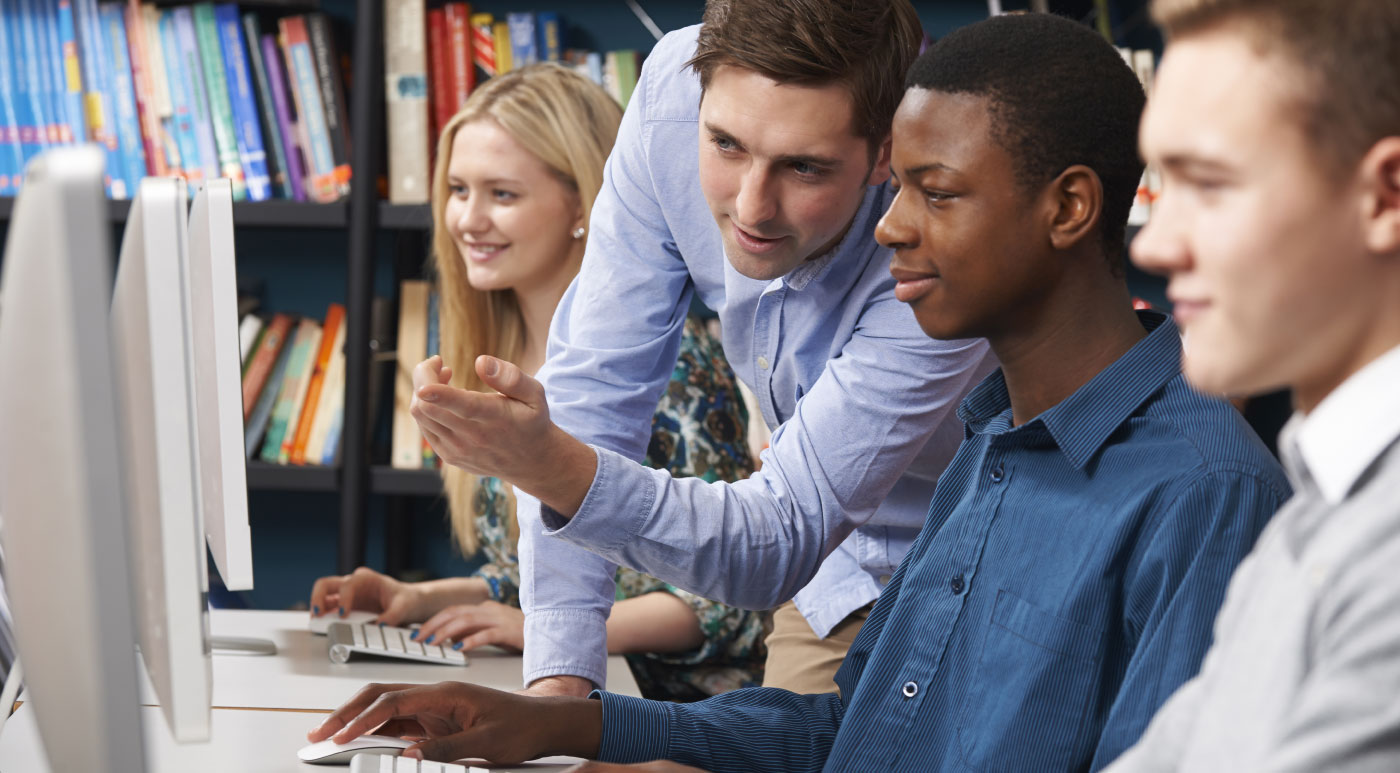 One of the numerous universities that began after World War II to provide continuing education opportunities for the nation's large new professional class, UNC–Charlotte bills itself these days as "North Carolina's urban research university." The university system's Chapel Hill campus might be its flagship, but UNC–Charlotte lies in the state's largest city, with all of the extra opportunities that affords.
Those play into the development of the university's online MAT program, which is designed for students who have completed UNC–Charlotte's Graduate Certificate in Teaching Middle Grades and Secondary Education. The university describes the MAT program as "Phase II" of the preceding 16 hours of coursework for the certificate. The MAT adds 21 more hours, beginning with 12 hours of core courses, three hours of advanced methods, and six hours of content specialization courses. The core work consists of four classes in teacher leadership, adolescent learning, research methods, and a professional development seminar. For advanced methods, students choose one of four courses about teaching English, math, science, and social studies in middle and secondary school. They drill down further into one of those subjects via content specialization courses, which cover middle and secondary education for math, English, science, and social studies. The curriculum wraps up with a capstone electronic portfolio.
Along the way, students conduct research, write grants, and complete a teacher-leadership project, according to the program website. They also have the opportunity to create professional development programs for teachers at their schools and have a chance to mentor a novice teacher. The university notes that "a number" of its students have received grants for their classroom work.
Because UNC–Charlotte considers its MAT program a sort of extension of its graduate teaching certificate, it essentially disqualifies any outsiders from taking it. Among its admission requirements is completion of its graduate certificate program as well as a recommendation from a full-time faculty member who taught the applicant in the certificate program. They also need to have earned a 3.5 GPA or better in the certificate program—the highest application GPA requirement on our list—though people who have lower GPAs may still be eligible if they score above the 30th percentile on the GRE or Miller Analogies Test. Beyond those requirements, applicants need to submit their transcripts as well as a statement of purpose. 
Once they check off all of those boxes, applicants will need to pony up $14,987 per academic year, which falls significantly below average for the programs in our top 20. The mix of affordability and high-caliber instruction helps explain why U.S. News and World Report ranks UNC–Charlotte No. 28 for Best Online Master's in Education Programs, tying it with Purdue University and the University of Nebraska–Kearney.
Master of Arts in Teaching, Secondary Education Concentration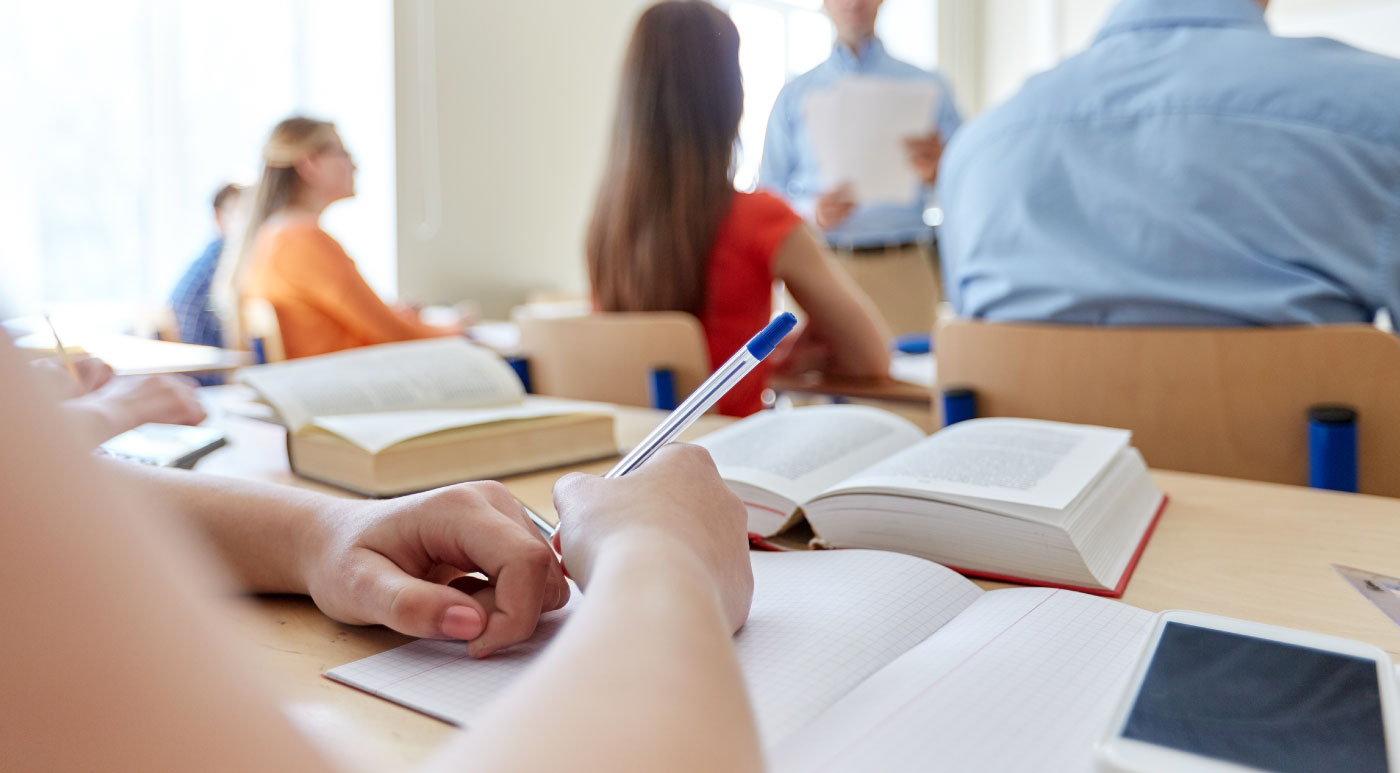 A small school located in Williamsburg, KY, University of Cumberlands is home to a lot more graduate students than undergrads. Its most recent numbers show 9,005 grads to only 1,366 undergrad students, so University of Cumberlands must be doing something right with its graduate programs.
Maybe the key is having fairly rigorous standards. The university's Master of Arts in teaching program has more admission requirements than many other programs on our list. First, people who are already licensed teachers are ineligible for admission, though applicants interested in its secondary education program need a bachelor's degree in it or at least 30 "background hours" in secondary education. Transcripts need to show a cumulative 2.75 GPA or better or a 3.0 or better in the last 30 hours of coursework. Applicants also need to provide three letters of recommendation (including one from an employer or professor) and meet GRE or Praxis CASE score standards. Everybody has to take one of the exams, as UC's website says the "entrance exam CANNOT be waived" in bold letters. The university also requires a background check and, at the start of the program, the submission of a "character and fitness" form that asks about disciplinary and criminal history.
Licensed teachers can't participate in UC's MAT program because it's designed to provide them with Kentucky state licensure. If you don't live in Kentucky, don't sweat it. The certificate can be transferred via interstate reciprocity, but it's a good idea to double-check the reciprocity rules in your home state first. The curriculum focuses on a knowledge base in pedagogy and instruction. Once students proceed through the foundation courses, the rest "focus on the application of instruction through field experience in your locality," says the program website. 
The 33-hour secondary education concentration allows further specialization in English, math, social studies, physics, Earth science, biology, or chemistry. The curriculum begins with 10 foundational courses covering topics like research methods, students with disabilities, educational psychology, special student populations, educational technology, and more. It also includes three clinicals, beginning with an introductory course. The second clinical places the student in a classroom for observation and participation. The third is a practicum, a.k.a. the exit course, designed for students who currently work in a classroom. Students dig into their specialization via a three-hour course covering teaching methods and materials for the subject.
Courses typically last eight weeks, though research methods, student teaching, and practicum classes last for 16. It's important to note that they're not asynchronous, either. Per its FAQ, classes meet one night per week from 8 to 9:30 p.m. eastern time. 
At $17,588, the University of the Cumberlands costs just under the average for the 20 best online master's in secondary education. 
Master of Arts in Teaching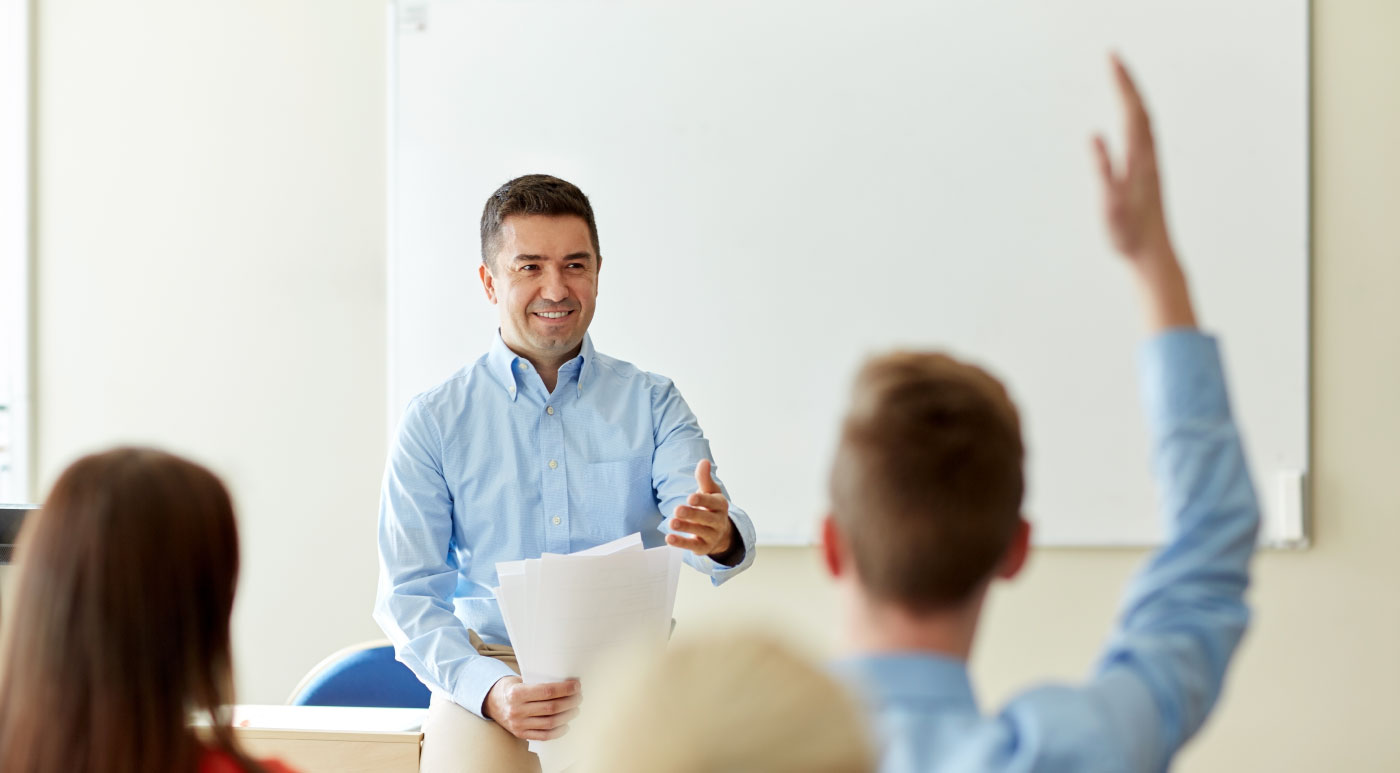 Formerly known by the far clunkier name of University of Maryland University College, the University of Maryland Global Campus is the distance-learning wing of the Maryland university system. Although it describes itself as "an online state university" these days, its history stretches back more than 70 years, when it started as the University of Maryland's College of Special and Continuation Studies. It was the first university that sent faculty overseas to work with active-duty military at American military bases in Europe. The school still does that at military bases in 20 countries, and the university has more than 80,000 students worldwide and satellite locations around Maryland, Virginia, and Washington, D.C.
UMGC's MAT degree is a 30-credit program designed to qualify students for teaching certification in Maryland. Students who live elsewhere may still qualify in their home state, but they'll need to check reciprocity and certification requirements. The credits break down into four courses, each for six credits and taken in order: Foundations of Teaching for Learning, Adolescent Development and Learning Needs, Reading and Multiple Literacies, and Subject Methods and Assessment. The university says each course has some kind of field-work component, which leads up to a six-credit full-time on-site internship for 80 in-school days (roughly 18 calendar weeks) under the supervision of a teaching mentor certified in your content area. Prior to the internship, students must pass a content-assessment test. An orientation course for no credit, taken concurrently with Foundations of Teaching for Learning, is also required. Students may transfer in up to six credits.
A list of courses can only provide so much insight into UMGC's curriculum, so the program website specifies learning outcomes, including designing and delivering instructional plans, assessing student learning, differentiating teaching methods, and using technology to maximize learning. Perhaps most important, the MAT program allows graduates to teach secondary students from diverse backgrounds (based on culture, ethnicity, language, and socioeconomic status) in a diversity of settings (rural, urban, alternate classrooms). It's a program designed to produce teachers who can handle whatever their jobs throw at them, which is usually a lot.
To graduate, students must maintain a 3.0 GPA or better and receive a B or better in each class. Not only that, they have to earn at least an 80 on all major assignments. They'll complete a performance-based teaching portfolio and student learning objectives project prior to graduation, and they'll also need to register for the Praxis II pedagogy exam. 
Like University of the Cumberlands above, UMGC not only requires a bachelor's degree, but also a major in the content area being sought (though the university may also consider 30 credits in content-related courses as sufficient). All previous coursework needs to have been completed with a 2.75 GPA or better. Applicants will need to submit a qualifying composite Praxis CORE Assessment score, or a similarly qualifying score on the Praxis I, SAT, ACT, or GRE. 
Once into the program, students can expect to spend $16,790 per academic year, placing UMGC below average for our list.
Master of Education in Curriculum, Assessment, and Instruction (Elementary and Secondary Education)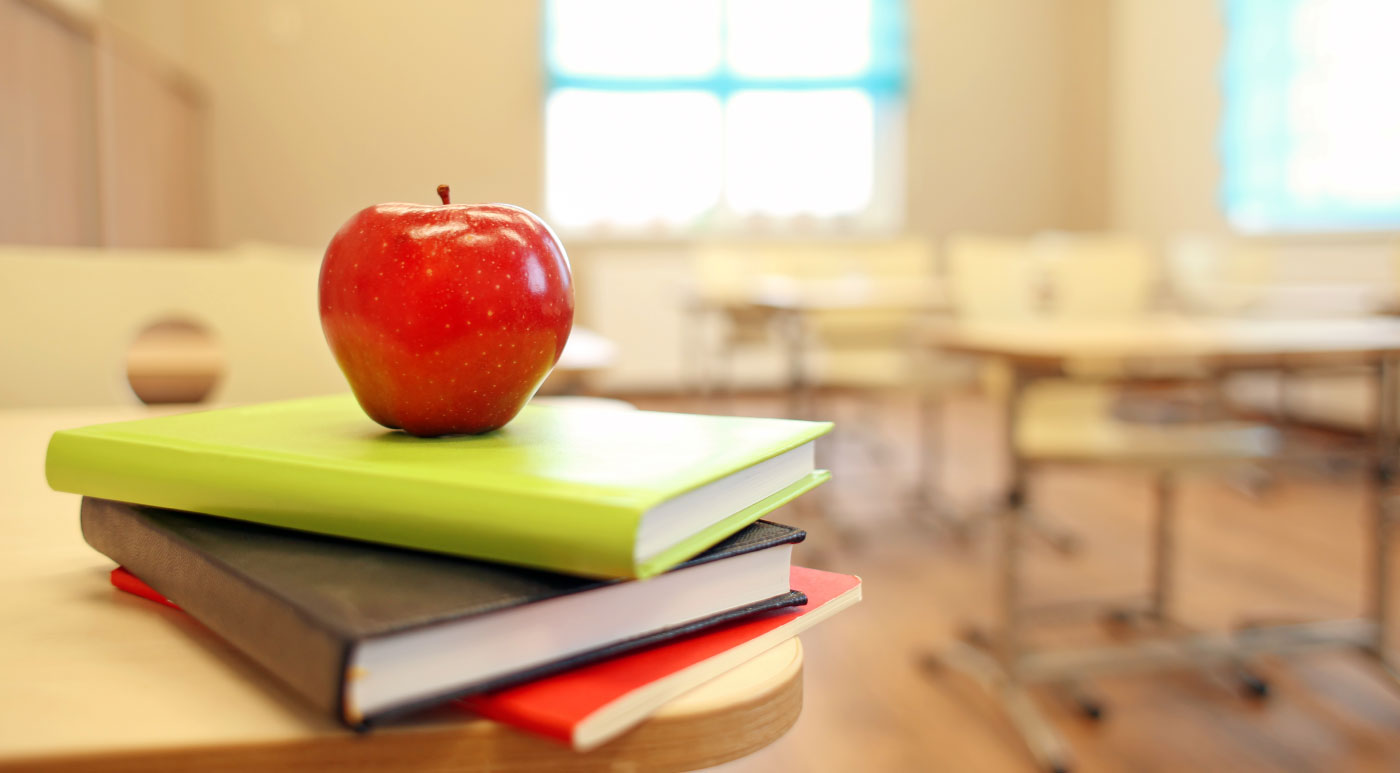 The University of Maine is located in the central city of Orono, about ten miles northeast of Bangor. It lies near a wildlife refuge, lakes, and verdant forests with tons of trails. It also averages a low of 8 degrees in January and a high of 28, with only a slight improvement in February. Also, it only gets 178 sunny days a year, well below the U.S. average of 205. So maybe distance learning is the way to go if you want to be a Black Bear? (The University of Maine mascot, not the actual animal.) Maybe that's why the university offers more than 500 courses online.
UM's Master of Education in curriculum, assessment, and instruction for elementary and secondary education is a 33-hour program for people who already have a teaching certificate. Based on "equitable and socially just instructional practices," it aims to teach students how to use "research-based knowledge, field-tested experience, and the latest technology to meet the changing needs of students and schools." It also offers concentrations via certificates in classroom technology integrationist (12 credits), early childhood teacher (12 credits), high leverage practices to promote inclusion (15 credits), instructional design (12 credits), and positive behavior intervention and support—RTI for behavior (nine credits). Students also have the option to devise their own concentration via courses from other education programs or content areas like language, social sciences, math, etc.
Students begin with 12 credits of core courses: Formative Assessments: Research, Practice, and Policy; Classroom Practice to Improve Learning; Dynamics of the Curriculum; and Prevention and Intervention in School Settings. From there they pivot to "action research" courses where they complete a research project their final year in lieu of a thesis. Two courses guide them through the process: a seminar and a practicum, each for three credits. For the practicum, students develop a research plan "for a question of educational practice of the student's choice," then implement it in a school or educational setting. They share progress of the plan via a blog, then present the process and results to a professional audience. 
The University of Maine has rolling admission, so students can apply at any time. In addition to proof of teaching certification, applicants need to submit transcripts with a 3.0 GPA or better, an essay describing their motivation for applying to the program, and letters of recommendation. That last part is optional, but highly recommended for applicants whose transcripts show a less than 3.0 GPA. U.S. News and World Report ranked UM No. 60 for Best Online Master's in Education Programs, so the application process may be competitive. The tuition certainly is: $16,984, below average for our top 20. Active-duty military and honorably discharged veterans who use the GI Bill automatically receive in-state tuition. 
Master of Education in Secondary and Middle Grades Education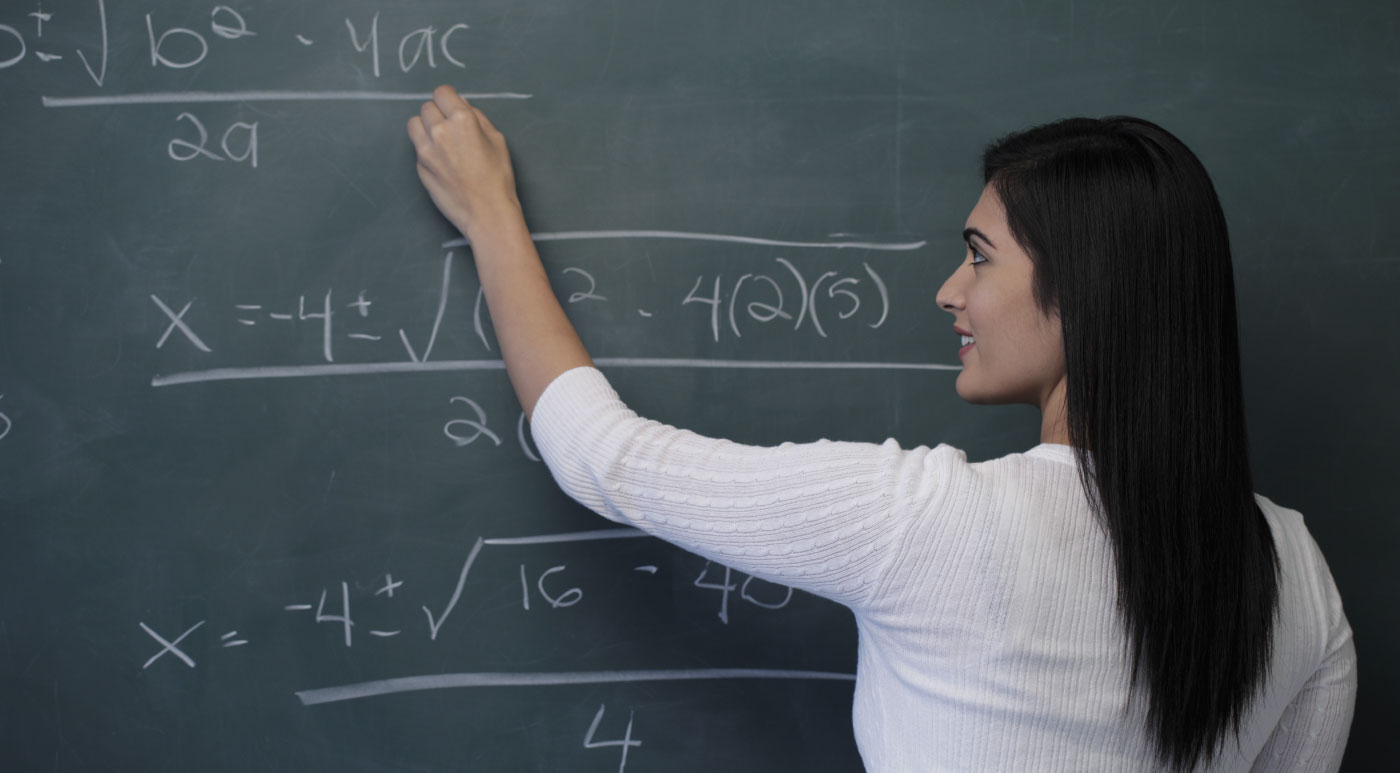 Would you describe yourself as an evidence-based instructional leader? How about a reflective scholar-practitioner? Maybe a responsive change agent? Well, if it's none of the above, don't fret: Kennesaw State University aims to transform you via its Master of Education in secondary and middle grades education. Its "content-focused, standards-based" program emphasizes that kind of development so teachers know how to meet the needs of their learners, to use and produce educational research, and can maintain partnerships with families and communities.
The 36-hour program is intended for people who already have their teaching certificate. Kennesaw divides its degrees by teaching area, offering a Master of Eucation in secondary English, secondary mathematics, secondary history, and secondary science. All of them are available fully online except science, which is a hybrid program. 
The coursework is divided into three sections: 15 hours of core, 12 hours of teaching field, and nine hours of electives. The five core classes need to be taken in sequential order, and they all have long names, such as Differentiation, Academic Language, and Assessment in Middle and Secondary Classrooms. That light-hearted romp kicks off the core coursework, followed by: Transformative Teaching and Learning with Families and Communities; Applied Quantitative & Qualitative Research; and Reflective Inquiry for Transformative Teaching and Learning. Finishing it off is a capstone research project that includes a 20-hour field experience. Focusing on their area of interest within teaching, students will use strategy and knowledge developed in the program to transform their classroom practice, a process they'll need to document in their project.
Beyond the core coursework, students take teaching field courses focused on one subject area: English, math, science, and history. At least one of those courses has to cover instructional technology, such as Technology and Media in English and Language Arts. For the nine hours of electives, students have the option to take additional education or teaching field courses, or coursework to earn an endorsement in autism spectrum disorder, coaching, ESOL, gifted education, online teaching, personalized learning, reading, or teacher leader. Working through all 36 hours takes five or six hours as a part-time student and four as a full-time one, per Kennesaw's FAQ. A maximum of nine credit hours can be transferred in from another institution, so 27 of those 36 credit hours for the degree must come from work at Kennesaw State. 
Admission to the program requires a valid teaching certificate (in the appropriate teaching field and grade level for the degree), résumé, two recommendations, official transcripts (with a minimum 2.75 GPA), and a one- to two-page personal statement describing your philosophy of education and professional goals. Kennesaw State also requires $17,618 per academic year, which is nearly a bull's-eye for the average cost of the 20 best online master's in secondary education.
OTHER NOTABLE PROGRAMS
#11. Ball State University
Location: Muncie, IN
Degree: Master of Arts in Secondary Education
Net Price: $13,642
#12. University of Central Missouri
Location: Warrensburg, MO
Degree: Master of Arts in Teaching
Net Price: $12,616
#13. Wisconsin Lutheran College
Location: Milwaukee
Degree: Master of Arts – Transition to Teaching
Net Price: $21,773
#14. University of West Alabama
Location: Livingston, AL
Degree: Master of Education in High School Education
Net Price: $13,357
#15. Saint Joseph's University
Location: Philadelphia, PA
Degree: Master of Science in Education – Secondary Education
Net Price: $35,344
#16. University of Nebraska at Kearney
Location: Kearney, NE
Degree: Master of Arts in Education
Net Price: $15,975
#17. University of Northern Iowa
Location: Cedar Falls, IA
Degree: Master of Arts in Mathematics: Secondary Teaching Emphasis
Net Price: $16,453
#18. Mississippi State University
Location: Mississippi State, MS
Degree: Master of Science in Secondary Education
Net Price: $16,670
#19. DePaul University
Location: Chicago
Degree: Master of Education in Secondary Education
Net Price: $30,584
#20. Georgia Southern University
Location: Statesboro, GA
Degree: Master of Education in Secondary Education
Net Price: $15,435
IF YOU ENJOYED THAT THEN CHECK OUT OUR ARTICLES ON THE 50 MOST POPULAR ONLINE  MASTER'S DEGREES  & THE TOP 10 REASONS TO EARN YOUR MASTER'S DEGREE!